>
>
Dream Makers Bespoke Celebrations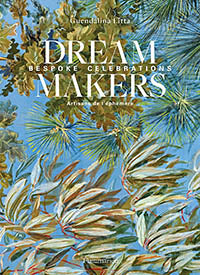 Dream Makers Bespoke Celebrations
Regular price
$85
Unit price
/
per
Step behind the scenes with Guendalina Litta—a preeminent party designer who has invented magical moments for her rarified clientele for more than thirty years.
Guendalina Litta is a veritable dream maker and a sought-after bespoke event planner. From the simplest decor to an extravaganza spread over a vast locale, her unique gatherings are conceived for delight. Follow a candlelit path into an enchanted forest for an evening under the stars, take cues from a masterpiece painting for an immersive experience, dine at a glass table embedded with riotous flowers in an elegant greenhouse, or be transported to an exotic land while never leaving your own property. Guendalina never ceases to reinvent her signature art of entertaining, cultivating a welcoming, convivial atmosphere that brings people together as she masterfully orchestrates the magical celebration.
Guendalina's creativity and style, combined with logistical prowess, are unparalleled. She and her exceptional team of artisans—caterers, florists, interior designers, architects, calligraphers, costumers, artists, and performers—attend to every detail in order to create ephemeral experiences that will linger forever in the memory of each guest.
This new book, featuring previously unpublished photography of her most recent events, serves as an artistic mood board to inspire event planners and creatives of every stripe. The pairings of behind-the-scene and front-of-house photographs create associations designed to spark creativity, and the clothbound cover reproduces a custom-designed, hand-painted fabric from one of the celebrations. Guendalina—who has crafted experiences to mark life's treasured moments for thirty years—shares her inimitable style and expertise with readers.